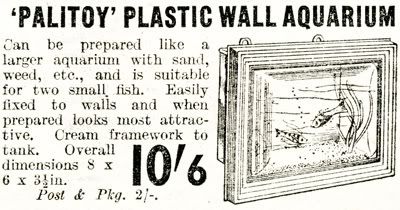 How about this mesmerising plastic wall aquarium, found in an undated Gamages catalogue? It probably dates from the late 1950s judging by the women's fashions featured in the middle pages. The men's fashions are no help at all, indeed some of the garment illustrations look like they've been used for at least 15 years.
Although I like the idea in principal, I'm troubled by the small dimensions of the tank and the evident lack of space and oxygen. Not to mention the lack of structures for the fish to hide and shelter from the glare of human scrutiny. I dread to think that it might have had lights built in too.
Granted I know little or nothing about keeping fish, but I'm sure this Plastic Wall Aquarium is guaranteed to traumatise them before it gently simmers then suffocates them, and they end up doing that listless backstroke on the surface (hopefully screened from view by the generously proportioned frame).
All in all, it suggests a high turnover of guppies, and possibly some equally traumatised children.
Perhaps its not the best suggestion for a Christmas gift. Apologies.
Additional notes
Using
Measuring Worth
's marvellous calculator, 10/6 would be equivalent to about £9.47 today. (I've taken a complete guess and used 1957 as the original year).