Boy advertisement, NME, 19th December 1981, page 83.
Here's the last of the clothing ads from the small pile of NMEs remaining in my possession, and these date from 1981 to 1985. You might notice that most of them come from the bumper Christmas issues, which were the ones I was most likely to keep for their end-of-year summaries, not to mention the hugely enjoyable collections of fatuous quotes from pop stars cherry-picked from the year's interviews.
So Boy's advertisement (above) for a party dress is rather confusing. It looks like a summer dress to me, especially accessorised with the headband/sweatband. Mind you, "rude print[s]" are appropriate for all seasons - and wouldn't you love to know what that "rude print" they so primly didn't show was?
Another all season item is the studded leather belt and Tyneway Video (?) has a very nice pyramid stud example on offer, along with wrist bands and boot straps: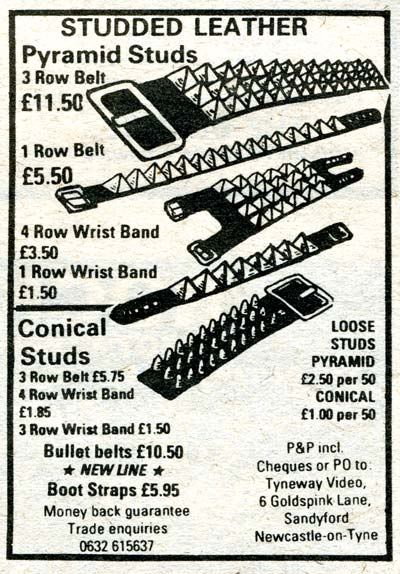 Studded leather advertisement from Tyneway Video, NME, 19th December 1981, page 83.
You might remember Roy's Fashions from the previous post, and his December 1981 ad doesn't disappoint: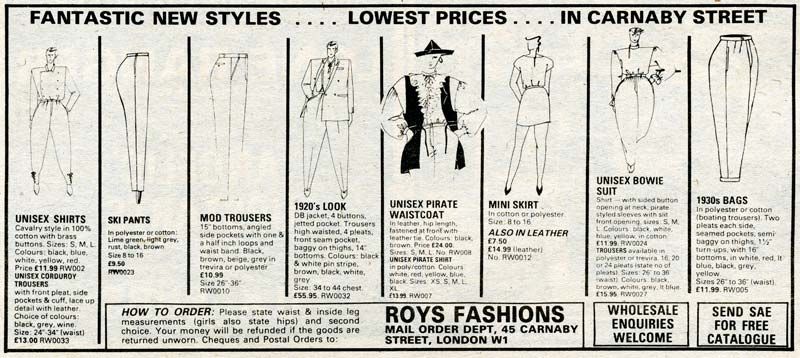 Roy's Fashions advertisement, NME, 19th December 1981, page 83. Click on the picture for a larger view.
Roy's range has definitely gone more New Romantic, with a dashing unisex pirate waistcoat and matching pirate shirt, a balloon-legged unisex Bowie suit and what is billed as a "1920s look" suit, although from that sketch it couldn't look more 1980s to me.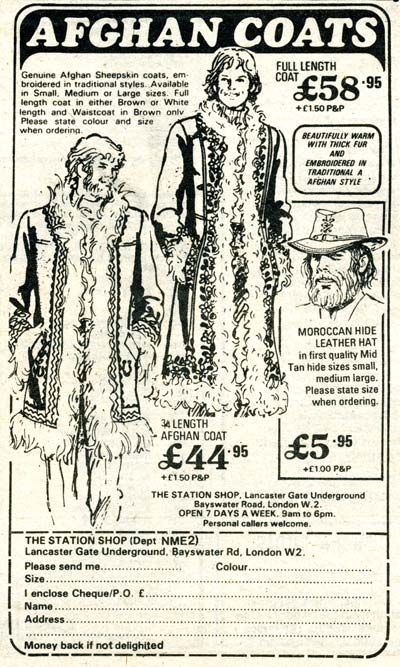 Afghan coats from The Station Shop, NME, 3rd January 1981, page 33.
Are those hippies still here? Well clearly they are, and the Station Shop is still flogging these wretched Afghan coats to them. Just stay out of the rain if you're wearing one - if you've ever smelt a wet Afghan coat you won't want to repeat the experience.
And now a scanner-stretching long ad from Melanddi, proud suppliers to the Jam, from December 1982:

Melanddi advertisement, NME, 25th December 1982, page 75.
The printed canvas jeans remind me that I thought I'd find an ad for Modzart, who were
the
prime purveyors of printed canvas strides at the time - and I was sure their ads were regularly featured - but I didn't find one.
Moving swiftly on from that deeply uninteresting observation . . .
Melanddi advertisement, NME, 24th December 1983, page 75.
Here's Melanddi's Christmas 1983 ad, with a rather curious "Stiletto Tongue Boot" among its newer offerings.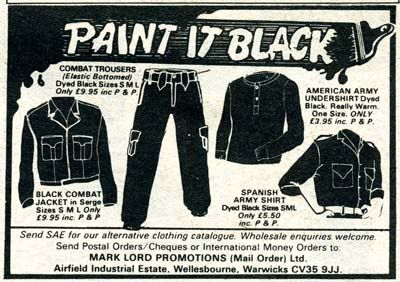 Mark Lord Promotions advertisement, NME, 24th December 1983, page 75.
Mark Lord Promotions have a novel line in black-dyed military surplus which I'm struggling to associate with any particular youth culture grouping of the time. Its a bit too butch for the goths (hang on, when did New Model Army appear?), maybe a bit too austere for the punks . . . any help here would be much appreciated.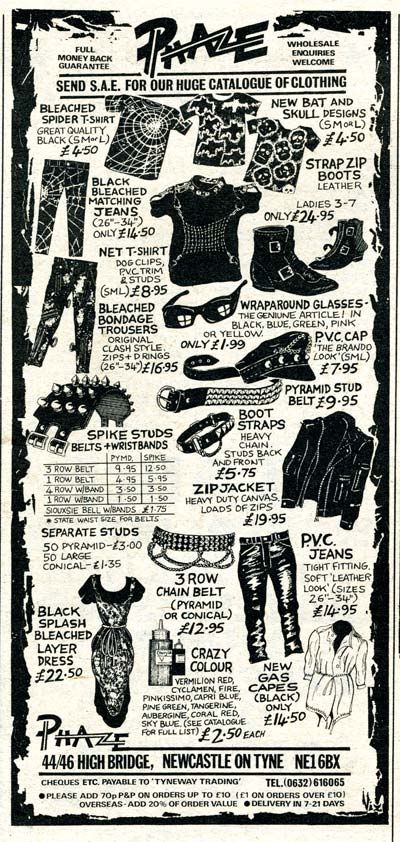 Phaze advertisement, NME, 24th December 1983, page 75.
Phaze of Newcastle has some
proper
cartoon goth gear, including some splendid bleached spider (web) jeans. The note at the bottom that cheques should be made out to "Tyneway Trading" might suggest a link with the Tyneway Video studded leather ad earlier.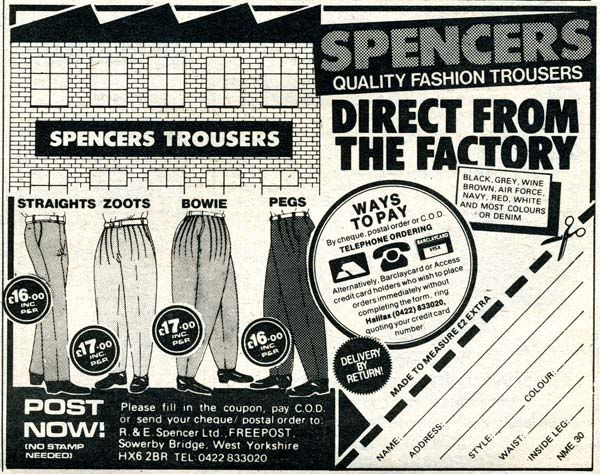 Spencers Trousers advertisement, NME, 24th December 1983, page 75.
I love the specialist suppliers' ads, and Spencers Trousers' one is a goodie. In case you didn't believe they were "direct from the factory" there's a picture of it right there. Despite the rather conventional graphic design, this ad inspires confidence in their trousers, and will you look at those Bowies - magnificent!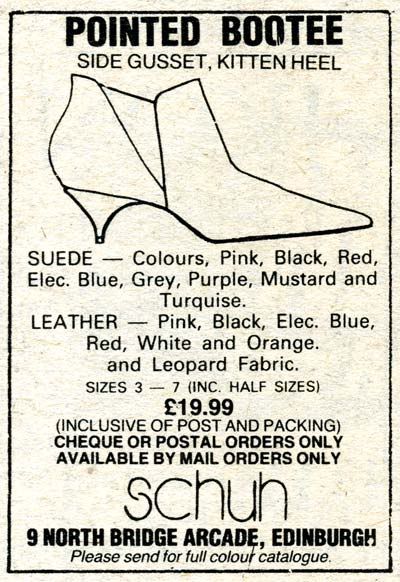 Schuh pointed bootee advertisement, NME, 24th December 1983, page 75.
A modest start for one of the familiar names on the British high street these days. Schuh's pointed bootee is rather lovely, and comes in an extensive range of colours,
plus
leopard skin fabric. I'm picturing Fay Fife of Edinburgh's finest, the Rezillos, in these.
And here's another familiar shoe retailer, although possibly past its prime now:
Shelly's of London shoe advertisement, NME, 24th December 1983, page 76.
I had no idea they supplied footwear to the World Disco Dancing Championship, which is quite some endorsement for the quality of their shoes. The WDDC provided some golden tv moments in the late 70s and early 80s, and there's plenty of clips to enjoy on Youtube. I've just spent far too long watching a few of them, but I failed to spot Shelly's breaker boot with the "disco" sole.
The Cavern advertisement, NME, 22/29th December 1984, page 75. Click on picture for a larger view.
The Cavern is strictly mod, and I think its rather nice that they name their models. So please meet Carl, Dave and "Boney" Tony.

Phaze advertisement, NME, 23rd February 1985, page 37.
Phaze return in 1985 with their goth range, and a smattering of punk.
And finally, Mark Lord Promotions' 1985 ad (now trading as 'The Mark') has dropped the black dyed combat jackets and gone a bit New Wavey. And the Bowie trousers endure: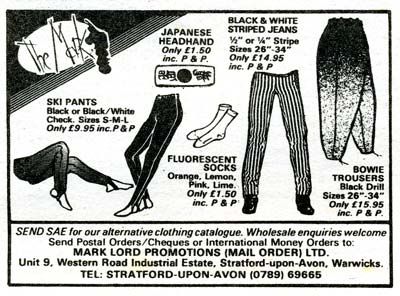 The Mark advertisement, NME, 23rd February 1985, page 37.
If anyone has any surviving items from these advertisers, or remembers wearing any of this stuff, your comments would be
most
welcome.
The only things that I recall having are the Sid-Vicious-on-tv t-shirt I mentioned in the previous post, plus a Boy punk shirt that was a copy of the Sex/Seditionaries ones with a woven patch of Karl Marx and a bleach written message "Only Anarchists are pretty." This I bought from the Boy shop rather than mail order, and, incidentally, was filmed doing so by a Japanese breakfast tv show!
Oh yes, and some Shelly's extra-thick crepe soled brothel creepers. Ah, memories . . .
Directory of advertisers
The Alien
, 20 Corporation Street, Bolton, Lancs (skinhead coats)
Baxby Fashion House
, 227 Portobello Road, London W11 (punk and mod)
Boy
, 153 King's Road, London SW3 (punk)
The Cavern
, 22 Fourberts Place, Carnaby Street, London W1; 19 Ganton Street, Carnaby Street, London W1 (mod)
Fab-Gear
, 42 Call Lane, Leeds (also X Clothes shop premises) (punk/new wave)
Furs and Jeans
, 48 Manor View, London N3 (Afghan coats)

The General Franchise Co. Limited
, 22 Park Grove, Edgware, Middlesex HA8 7SJ (Ted/rock'n'roll)
J. Holdsworth
, 95 Lots Road, Chelsea, London SW10 (punk and mod)
P. Leach
, 50d Redcliffe Gardens, Chelsea, London SW10 (punk)
Mainline
, 51 Two Mile Hill Road, Kingswood, Bristol, BS15 1BS (punk)

Mark Lord Promotions
(mail order) Ltd, Airfield Industrial Estate, Wellesbourne, Warwickshire CV35 9JJ (black dyed army surplus)
By 1985 advertising as '
The Mark
' at Unit 9, Western Road Industrial Estate, Stratford-upon-Avon, Warwickshire (new wave)
Melanddi
, 43 Carnaby Street, London W1 (mod, new wave)
Phaze
, 44/46 High Bridge, Newcastle-on-Tyne NE1 6BX (punk, goth)

Printout Promotions
, 28A Abington Square, Northampton (punk, mod, metal)
Punters Choice by Cadiss
, 117 Hammersmith Road, London W14 (slim ties)

Radar
, 1st Floor, Virgin Records, Union Street, Glasgow and 3 Dundas Street, Edinburgh (retail stockist of P. Leach, punk)
Retro
, 26 Union Street, Broadmead, Bristol 1 (mod leather)
Roy's Fashions
, 1st Floor, 45 Carnaby Street, London W1 (new wave, mod, new romantic)
Schuh
, 9 North Bridge Arcade, Edinburgh (new wave shoes)
Shapes
, 252 High Street, Waltham Cross, Hertfordshire, EN8 N78 (hippy/ethnic)

Shelly's of London
, 159 Oxford Street, London W1; 19/21 Fouberts Place, Carnaby Street, London W1; 146 Kings Road, Chelsea SW3 (mod, punk, new wave shoes)
R & E Spencer Ltd
, Sowerby Bridge, West Yorkshire, HX6 2BR (trousers)
The Station Shop
, Lancaster Gate Underground, Bayswater Road, London W2 (Afghan coats)
Tyneway Video
, 6 Goldspink Lane, Sandyford, Newcastle-on-Tyne (studded leather)