Not long ago, I showed a visiting friend a British Pathé film (forgive the regular British Pathé references and links - I'm officially obsessed with it) from 1942 demonstrating some ingenious ways to wear headscarves. We were both filled with enthusiasm and inspiration so I dug out some old scarves for us to experiment with.
First the film, which is well worth the link leap:
TURBANS (issue title is WAYS AND MEANS)
My friend tried the 'natty little pussycat' with just one long scarf rather than the two recommended, and was so taken with it she left it on. Some of the other variants were possibly a little too complicated and involved pins so we left those alone (particularly prudent after a couple of glasses of wine).
But I did have some old - ok
vintage
- buckles that I thought could be pressed into service with the scarves for some new variants. These experiments worked pretty well, so I recreated them later on my battered old mannequin.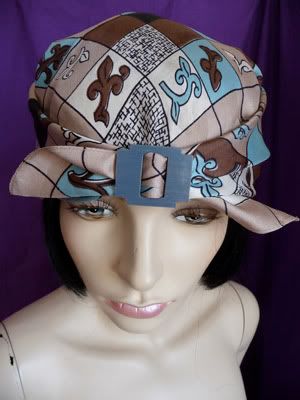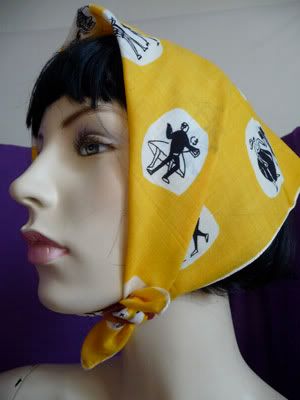 Number one - square scarf, folded diagonally into triangle, place fold at brow, draw each end of that through the buckle at the back. Not bad, a little bit insecure though.
Number two - long scarf, drawn through a buckle, tighten to fit. I was aiming for Clara Bow, and got Steve Tyler. Needs work.
Number three - same principle as number one, only the opposite way round. The corner underneath has been tucked under for neatness. Exhibits same instability as number one. Norah Batty?
Number four - hardly needs explaining. Using a tiny buckle seemed to help the security issue. This might be a bit more Rita Tushingham, only without the bouffant.
Well, mixed results, certainly. But it was a fun evening.